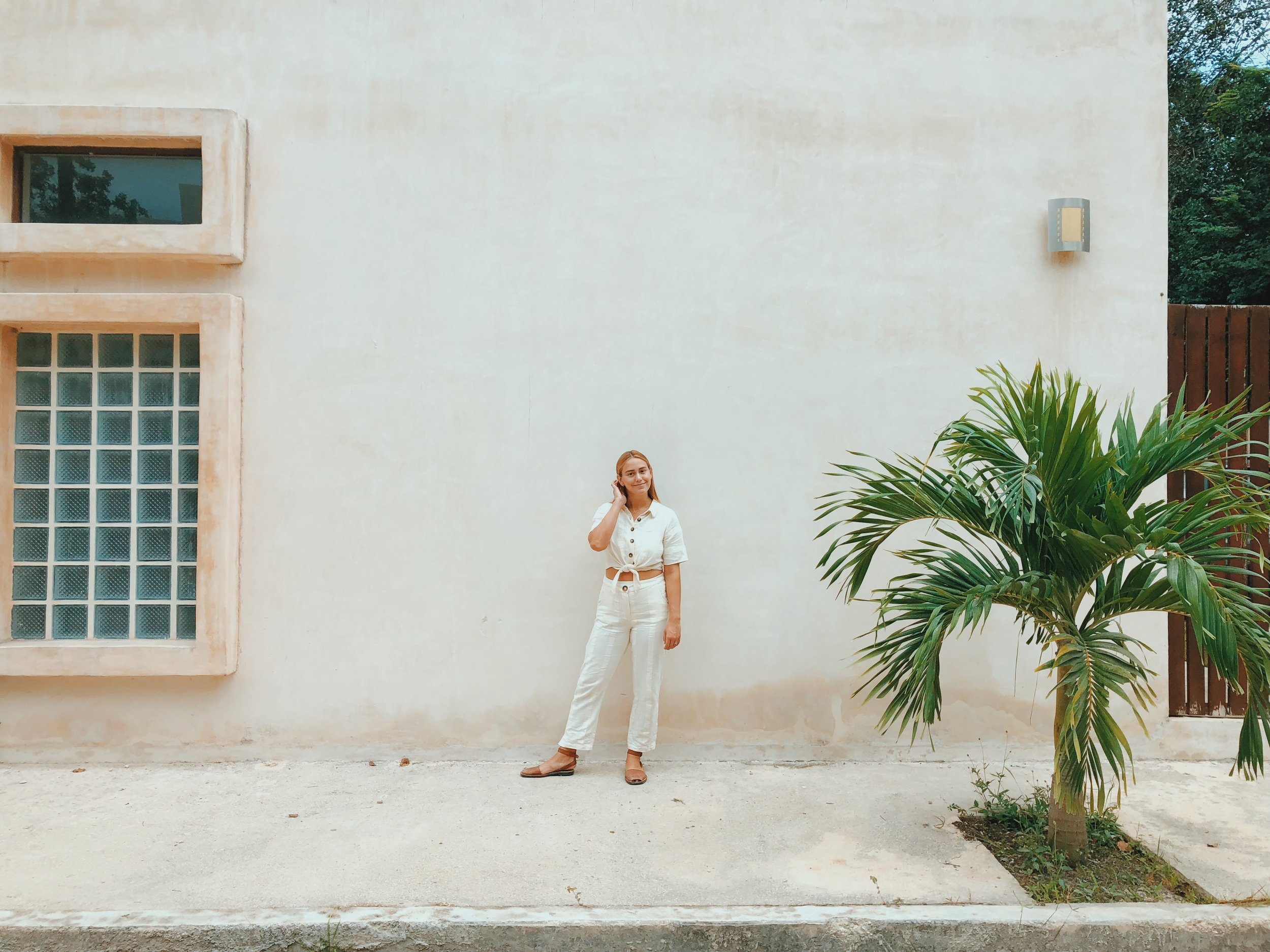 tulum tulum
"I saw that you went to Tulum for your honeymoon—do you have any recs?" If I had a dollar for the amount of times I've been asked this question, this week alone, I would have $6. A very hot topic and travel destination right now! Instead of typing out the same response to everyone and copy/pasting what I said, I've decided to recap my time there with a little overview. In no way am I saying all of my opinions are the best of the best or that this is a comprehensive list of all the Tulum offers—this is just my experience, what we loved about it, and some recommendations from friends who have been!
where to stay
Ok, this one might be #UnpopularOpinion but we really loved staying in town over staying on the beach. If we were to go back we'd probably only stay in town (and go to the beach clubs,…more on that later). For a couple of reasons!
The staff was more personal. At both places we stayed in town, it immediately felt like we were friends with the staff there—even spending an entire day at the hotel bar, drinking with the staff and hearing stories from the bartender. In contrast, at the larger beach resort we stayed at—we just kind of felt like a number and the service was not as on-point (granted we could have just gotten unlucky with our choice).
The design was so much more dialed. The rooms felt very thoughtful and well curated. We found ourselves constantly being inspired by our surroundings, even implementing some of those inspirations into our home now. Not that I would just go to Tulum (or anywhere) to stay inside a hotel all day long, but it really did make the experience that much more enjoyable.
It felt like a more local and inclusive experience. One of the things that is so special about Tulum is how so many people come from all over Mexico and all over the world. We loved getting to hear about their lives there and especially their suggestions of places to go (and avoid). Bonus: smaller boutique hotels usually have a lot lower traffic, so it feels less crowded.
Everything around it was less expensive. This was major—especially since we opted for a longer trip, almost 2 weeks. Tulum is growing super fast and a lot of the hotels on the beach road are super competitive with pricing.
Casa Pueblo - Could not speak higher of our experience here. It's relatively small, with only 16 rooms, so it felt very intimate and like a one-of-a-kind experience. The space is beautiful and calming, with kind and friendly staff, cute dogs roaming around in a non-stray-dog kind of way, and generously sized rooms. The rooms are super minimal with clean design and beautiful touches that really made an impact—handmade leather chairs, eco-friendly soaps, Parachute Home linens, and floor to ceiling windows. It made us kind of want to leave our lives behind and just move in. Did I mention the staff? Jorge, Pepe, and Julianna, immediately made us feel so welcome and every time we'd come back from being out for the day it was like coming home to familiar friend. The restaurant, bar, and coffee shop were also on-par with Tulum's best. Probably the best coffee we had in all of Tulum and our favorite cocktail. They have this Spicy Margarita with Habenero Jamica Salt which planted in us a deep, deep love for spicy cocktails.
Hotel Tiki Tiki - Okay, Hotel Tiki Tiki was basically an answered prayer/cry for help that could not have been more life-giving (after a traumatic stay at an AirBNB…shoutout to Hotel Tonight for saving our honeymoon). That story isn't safe for this space of the internet, so I will spare your eyes and mental catalogue. Hotel Tiki TIki is a small boutique hotel, with 15 rooms; so again, a more intimate experience. It's located on the far west side of Tulum town, nestled in a bit of jungle. So it's not on the beach, but it's also in a quieter part of town so it feels so serene. You would want to take a taxi or scooter (they have some there you can rent!). Depending on where you want to go, it might be a little far to bike, but they also have those available to rent. The hotel itself is just beautiful and full of character. With colorful retro tiles, a mid-century modern meets Miami beach style, big comfy rooms, most of which have balconies or large windows. Our room even had a hammock in it that stretched across the room and over the bed. The staff was incredibly personable, helpful, and fun to be around. This is the place where we literally spent the whole day at the hotel bar, hanging out with the staff. Did I mention the small pool they have is…I hate to say this…super instagram-worthy.
Others: BeTulum, Nest, Casa Malca (Pablo Escobar's old mansion?!)
where to eat
Habitas - Honestly, you can just stop reading and just stay here if you can. And also never leave. Habitas is a hotel on the beach, but they also have a beach club, bar, and restaurant. Best ceviche I've ever had. There's a minimum spend if you want to stay at the beach club, but it's so worth it. We miss the staff there—they were so special. Te amo Rogercito!
Nu Tulum - We had one of our best meals in Tulum here. Granted, it was right after getting a massage so I already felt zen and amazing….but Dane did not enjoy the massage and still shared the same sentiments about this meal. Nü Tulum was started by 7 chefs from Mexico city. It's an open-air kitchen and restaurant, so you see all of these amazing chefs at work. The staff was super knowledgable and the one of the chefs even came by after our meal to talk with us and get feedback. A very diverse and interesting menu, with unexpected combinations. Like "arrachera carpaccio," which is basically like thinly sliced steak tartare that came with mustard ICE CREAM?! Quite a wild flavor experience.
Mezzanine - Really yummy Thai food, great for when you are tired of the local fare. The restaurant is also on a rooftop that overlooks the beach. It was cold and windy when we went, but seems like it would be an amazing spot to hang for a while.
Tropi Tacos - Cheap, simple, street tacos. Our friends like Taqueria Honorio better. Try both!
El Asadero - This place was SO delicious and the portions were so huge. Definitely get the Arrachera—a type of beef skirt steak—it's one of their specialties. We wish we would've gone back, because we ordered too many appetizers and could barely put a dent in our main courses. It was a shame because all we wanted to do was keep eating.
Del Cielo - A pretty basic breakfast spot with fresh and delicious food. For when you don't want to have tacos every morning for breakfast.
Raw Love - Would never consider going vegan until I went to this spot. Everything was so fresh, inventive, and delicious. We went here quite a bit, as it was near our hotel. We have even tried to re-create their Nearly Raw Pad Thai, which was delicious.
The Real Coconut - Gluten-free, grain-free, and dairy-free. We spent the day here! They don't necessarily have a "beach club" but we asked if we could stay for the day if we ate from the restaurant, and they were very accommodating. Great cocktails, friendly, non-overbearing service, and fresh food. It's also on a quieter stretch of beach, which was very nice.
Posada Margherita - Amazing Italian food right off on the beach. Sadly, we didn't know it was cash only, so we only had enough on us to split an order of pasta, but the drinks looked amazing and all of the pasta dishes did as well.
Others: Hartwood (wish we could've gone, but our sweet friend got us the cookbook!), Rosa Negra, Gitano (we just went for drinks!)
where to drink
Ok, first off, let it be known: Tulum does Happy Hour! In town on the main drag, you'll see a lot of bars that do 2 x 1 Margaritas and Mojitos. Fewer places along the beach road have HH, but some do. An important note: neither of us liked mezcal before coming to Tulum. It was always such a flavor bully (aka so overpowering), but we didn't have one mezcal cocktail we didn't like during our whole stay in Tulum! They're doing something very right
Casa Jaguar - This was one of our favorites. The whole vibe is really relaxing and dare I say…sensual? It's all outdoors (a lot of the beach road spots are) and it's like they put a little restaurant in the middle of the jungle. There's an open fire grill, twinkle lights, and I'm not an incense person normally, but they burn this kind called "Copal" that is just wonderful. There is a habenero cocktail that is a little painful, TBH, so be warned!
Bal Nak' - We think this may have been a newer spot, because it was pretty empty when we went. They have HH and their craft cocktails were very much on par with others in the area, with lower prices. Win-win.
Gitano - Craft cocktails. The priciest. I didn't love mine (ugh, should've sent it back but I was feeling shy) but Dane's was amazing!
Casa Pueblo - Again, we are biased but they had incredible cocktails. Negroni, "The White Lady", and the Spicy Margarita.
Others: Mur Mur (they have swings!), Casa Banana, Todos Santos Bar (connected to Casa Jaguar),
things to do
Cenotes - There are so many! The Grand Cenotes are the most popular, and therefore the most crowded too. It's best to get there early in the morning to enjoy it before the rush of tourists. There are a bunch of smaller cenotes all over Tulum and outside as well.
Tulum Ruins - A really great way to learn about the history of Tulum. It's like $3 USD to get in and there's so much to learn about, even if you don't go on a guided tour.
Beach Clubs - Like I said, Habitas was, is, and forever will be our favorite, but there are plenty of beach clubs to check out.
how to get around
Scooter - This was one of the best decisions we made. Highly recommend if you feel comfortable riding around and have ridden one before. You can rent them for the day or for the week. So easy to zip from place to place and not worry about having to grab a cab or walk too far.
Taxi - There are so many taxis in Tulum! It's one of the main ways to get around. A taxi from town to the beach is 100 Pesos (~$5 USD). You can always talk down on pricing too!
Bike - Lots of hotels have bikes that are free to guests or bikes that you can rent. It can get a little scary on some of the roads, but on the main beach road there is a paved path before it forks. We didn't ride bikes, but saw a lot of people who did.
Walk - Depending on where you are staying and what you are looking to do, it's pretty easy to get around on foot.
travel tips
money - don't exhange money at a currency exchange at the airport or elsewhere, ever. it is a rip off and they charge a huge percentage. scotiabank in town or the 7-11 ATM are both places you can withdraw cash from, without getting charged a heinous fee. there's a standard ATM fee, but nothing crazy. carry cash (USD and pesos) on you, but avoid using it as much as you can. it's likely that your credit card will work for international expenses for no fee (or a very low fee).
restuarant hours - a lot of places aren't open every day of the week like in the US and instead have kind of random operating schedules. Like open on Thursday to Sunday, or open every day but closed on Wednesdays. We also found ourselves eating dinner MUCH earlier than locals in Tulum. We are basically elderly and would eat anywhere from 5-7PM (LIKE NORMAL PEOPLE) and places would be empty. Which was great for happy hours, but kind of funny when you got to a place and it would be empty. I found lots of friends who have been share this same sentiment.
ok that's pretty much it! hope this was helpful to all my internet and real life friends. let me know in the comments if there's anything i should add. ily. bye!